Home / Small Business
Graphics for Small Business Branding & Brand Identity
Your business speaks to potential customers, so make a great first impression from the start. Get outstanding and fully customizable graphics, together with Branding Kits to create your brand identity in a matter of minutes. Find the best tips to boost your Small Business or SME and let's dive in!
Find your Small Business and Start Creating Brand Graphics
Achieving an outstanding Brand Identity is easy with Wepik. We offer a wide range of templates and formats for you to edit online with our free and easy-to-use tool. Find your Small Business and get to work — have a look at what you can find on our website!
Can't Find your Business? Check our Popular Templates
We're working hard to give you the best content and graphics to create an eye-catching brand. If your Small Business isn't still on the previous list, don't worry! You can browse our website looking for the templates that best fit your needs and customize them with our online tool. You'll have access to all of Wepik's editing options and get the final result for free. Start now!
How does Wepik Work?'
Wepik is an online editor that offers online editing options so you can get great designs without needing to install any software on your computer. The tool is so easy to use that you won't need graphic design prior knowledge either. Your only job is to pick the template or pack that best suits your Small Business needs, and customize it.
Browse our website and find thousands of Brochures, Flyers, Price Lists, Business Cards, Menus, and many more. Get graphic adaptations for any format you want to use and make a huge difference with your business, online and offline!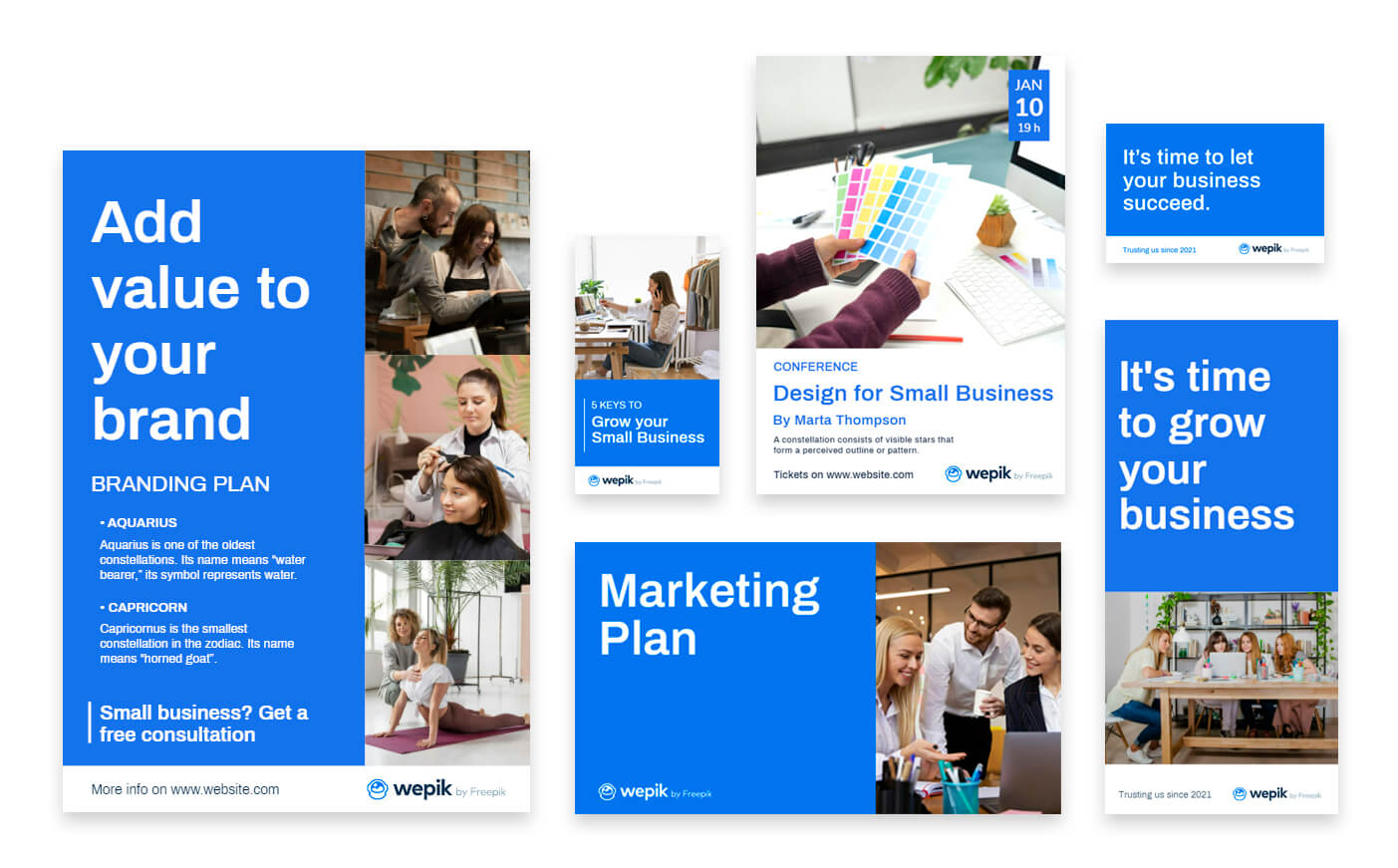 Brand Kit
Use our Brand Kit option and fastly get custom-made templates for you. Click on "My Creations" and you'll find the "Brand Kits" section. Once you're there, upload your business logo, fonts, and corporate colors to create a new folder containing all your company's main features.
Now, you can apply your Brand Kit to any of our templates when editing! This will also save you a lot of time — everything you need to keep your branding on point is in the same folder.
Branding Packages for Small Businesses
Get a selection of templates made for businesses in particular. You'll find specific topics for each Small Business, and a collection of templates already prepared to achieve a completely branded business within just a few minutes. Have a look at some of them!
The Importance of Branding for Small Businesses
Branding is key in every company, and small businesses should also build an identity that reaches the correct audience. Your coffee shop, spa, restaurant, or any kind of business communicates with potential customers through colors, fonts, shapes, and texts. Making sure you're sending the right message is a must to create a strong and loyal community.