Home / Flyers
Free online Flyer maker to create outstanding designs
Sharing your company's services and products adequately with the world is so important to differentiate yourself from the competition. A flyer is a good way to start, so feel free to explore our great collection. Select your best fit and customize it with our amazing editing tool. Are you ready to start?
Stunning printable flyers to customize online
Check our flyer templates
Scroll through our different templates and select the one that best suits your needs from our creative and wide collection.
Customize your flyer online
Once you've chosen a template, edit and customize it with Wepik's online editor. You'll get the perfect result within a few clicks!
Download the final result for free
Now that your new flyer is ready, it's time to share it with everyone! Simply download the final design to get started - PNG, JPG, or PDF are available formats.
Stay inspired with our flyer design ideas
Discover designs things that you could've never imagined. Dive in and find your perfect style!
Free small business flyer templates
Looking like a popular company may seem like a dream, an impossible endeavor, but don't be deceived! Your small business can be just as professional-looking as them with the help of our flyer templates. Made by our incredible team of designers, you can boost your identity and communications to the next level.
Who would've thought that your company's flyers could look so good, with so little effort? Start discovering our small business templates here: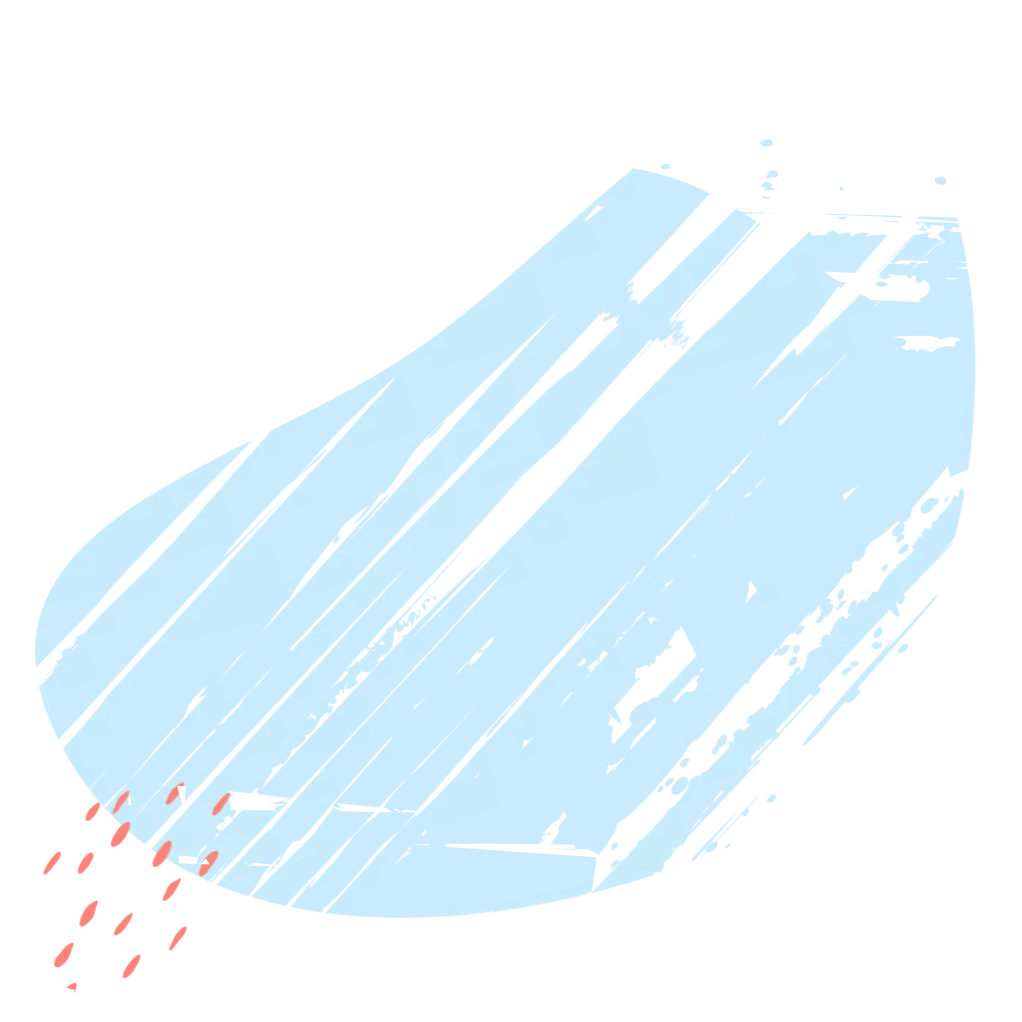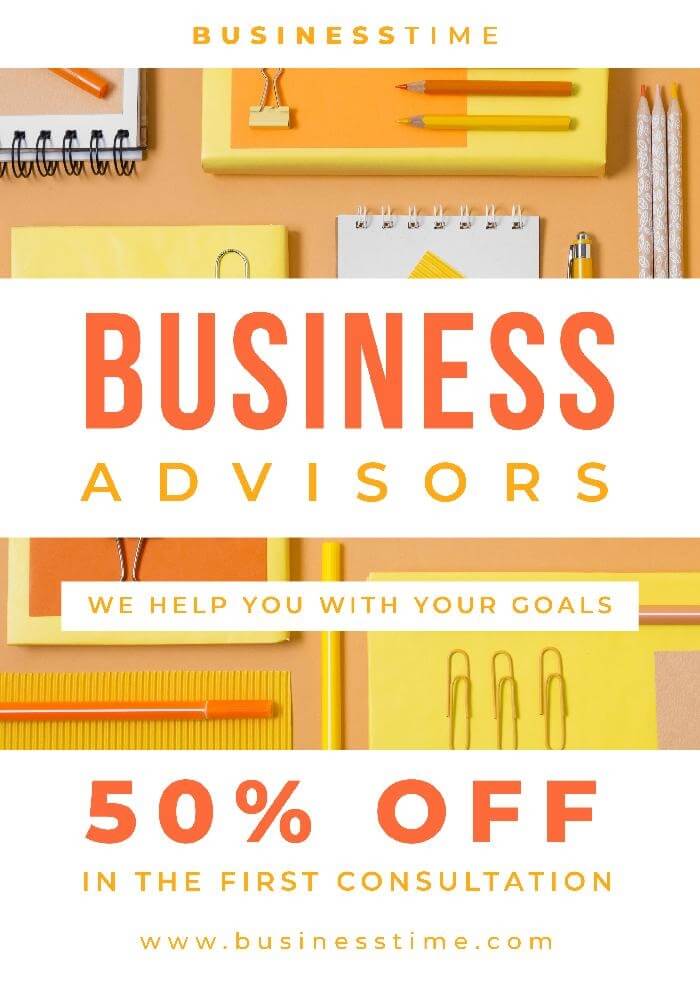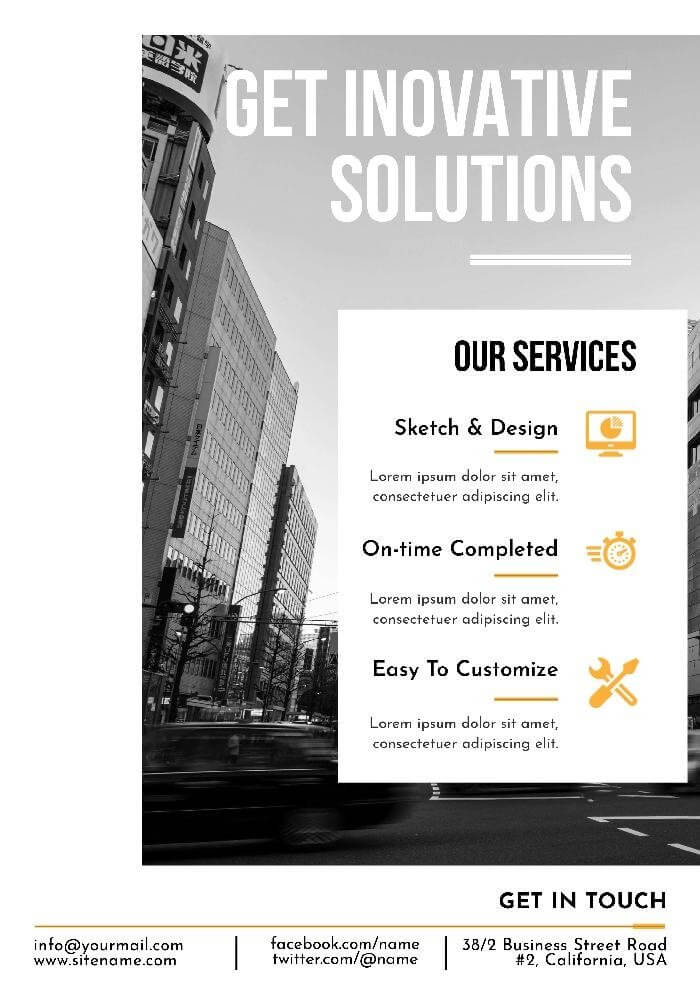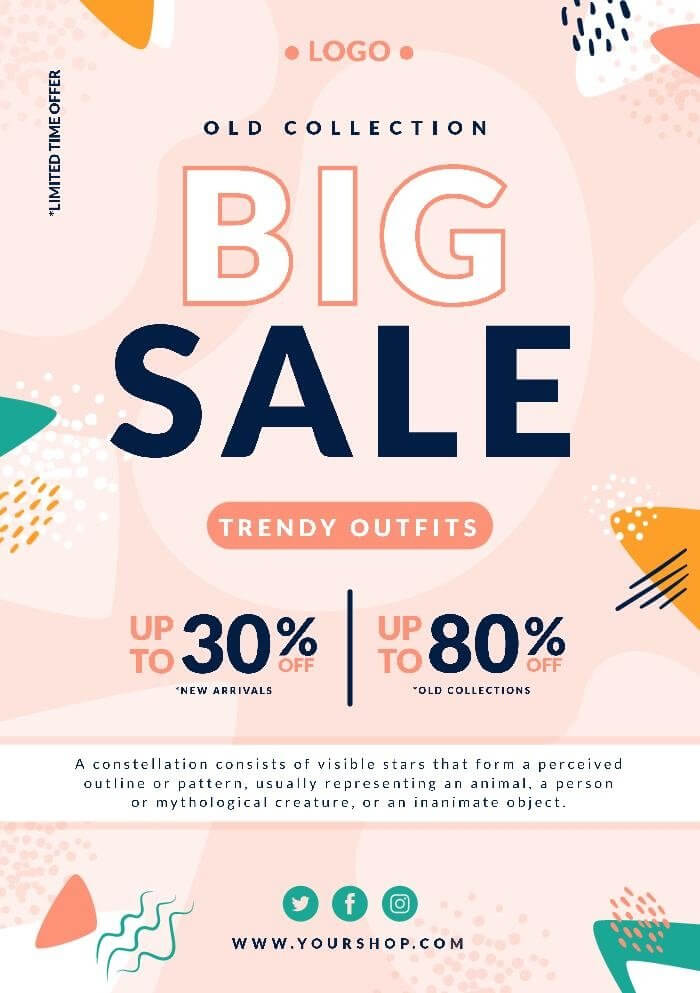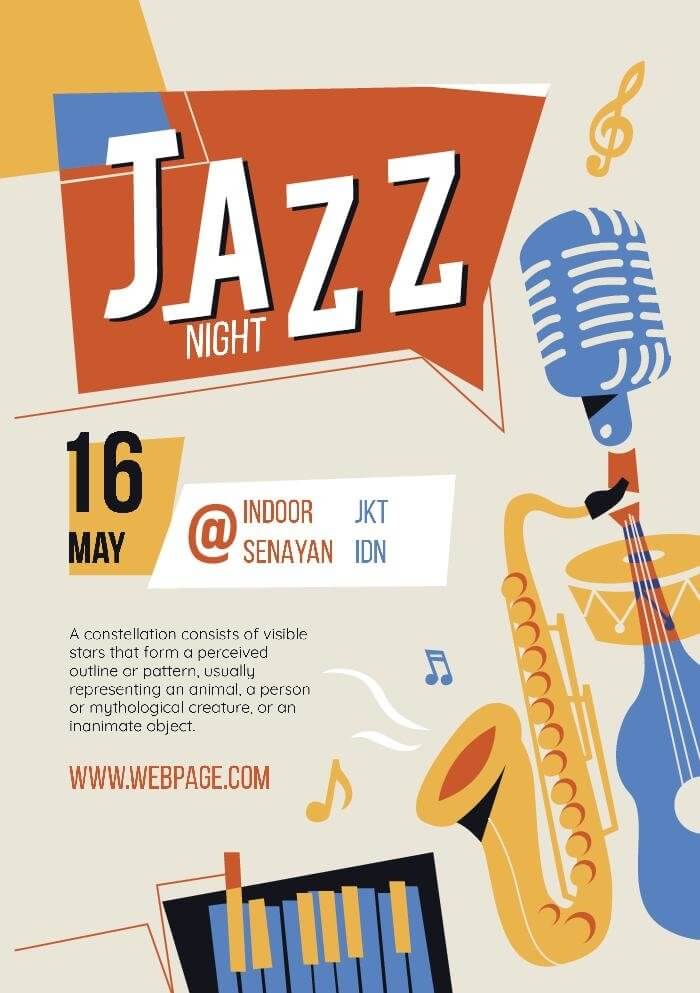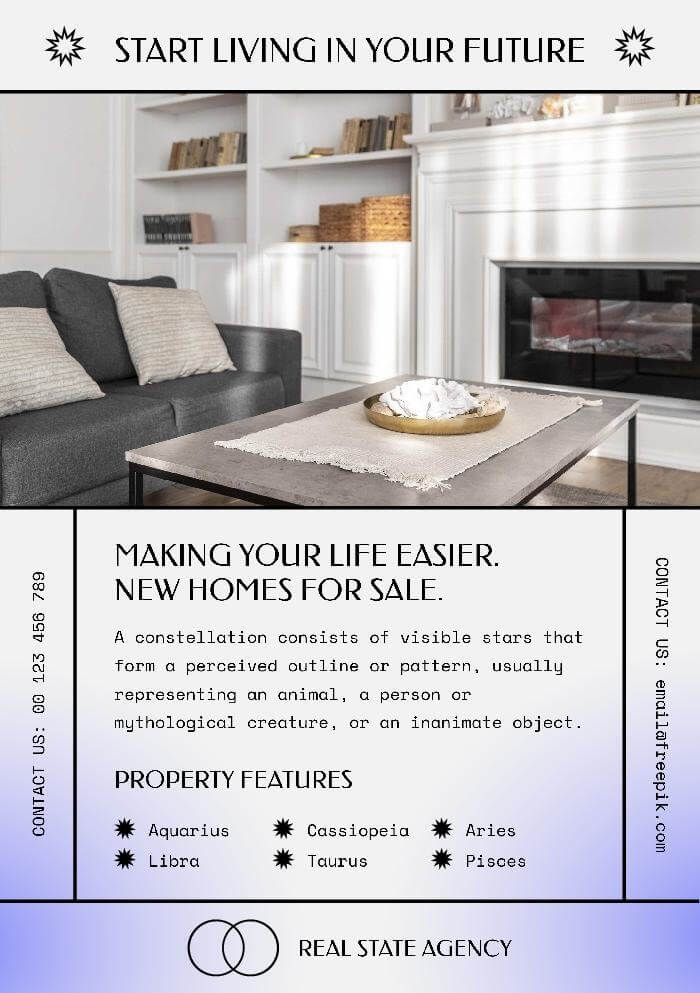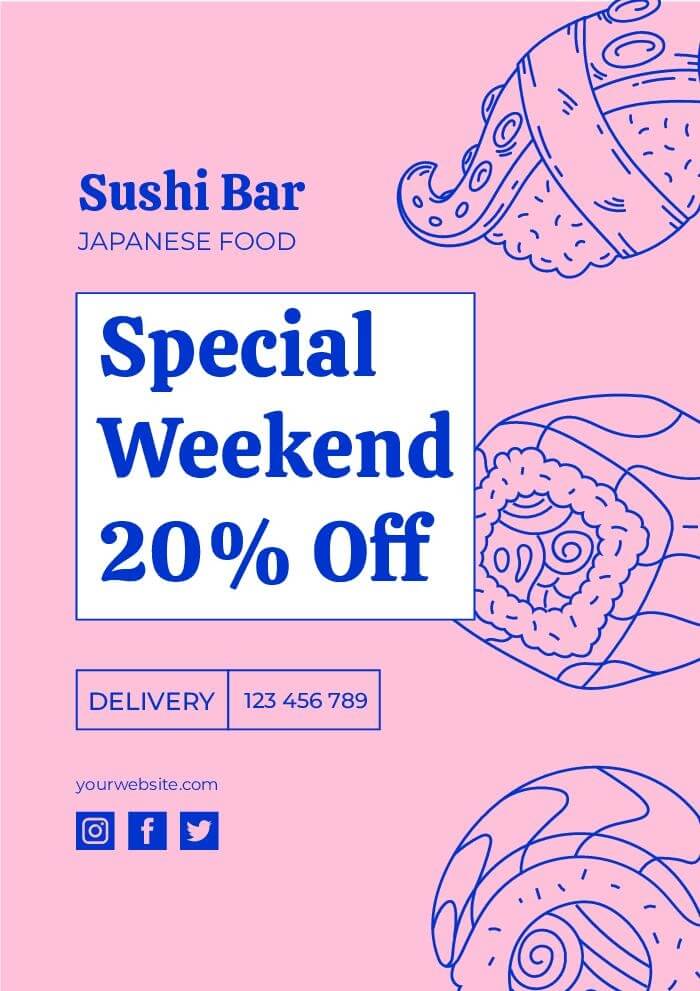 How do flyers help businesses?
Having a good flyer is key in any good marketing strategy you're planning for your company - it has to be eye-appealing and clear to attract attention at first glance. A survey has shown that up to 80% of respondents say they remember information better when they read it on paper. It's one of the cheapest ways to engage customers and gain new ones, plus it has been demonstrated that they generate a greater interaction with the brand.
Explore more makers
Want to create stunning flyers that stand out from the crowd? Look no further than our online makers! With our easy-to-use tools, you can create eye-catching flyers in just minutes. Choose from a range of templates or create your own design from scratch. Whether you're promoting an event, sale, or product, Wepik has got you covered! Our online makers are designed to enhance engagement and make content creation a breeze. So why wait? Sign up for Wepik today and start creating standout flyers with ease!
Frequently asked questions
How to make a business flyer with Wepik?
Very simple! You have two options: to design it from scratch by clicking on "use blank canvas" on the home page, or choosing a template. If you want to use a template, open our online editor and make it your own. Include your company's color palette, or even graphic elements, such as your logo or social media icons. All you need to get your ideal new design!
What size should flyers be?
Although Wepik offers a resizing option for all its designs, the ideal dimensions for a business flyer template are 148 mm x 210 mm. This means that it should be 559 pixels wide and 794 pixels in height.
Can I download and print my final designs?
Absolutely! You can do this by opening the editor and going to the right-side panel. There, you can see a "Download" button. Just click it, select your preferred format —PDF, JPG, PNG— and print it like any other document. It's so easy!
Flyer layouts to customize online
Do flyers work for small businesses?
Of course! It's essential to continue using some traditional advertising tools, as they are still effective, and a flyer is one of them. One of the main advantages of having a small business is that you know your customers and product to perfection. This is your core value: use it to attract new offline customers that will help you grow your business.
Be ready to give the best first impression!
What information should be included on a flyer?
Check out these 5 tips to make your flyer effective:
1. "What's the purpose of this flyer?" The design will depend on what you want to promote - is it an event or maybe a product? That's the first thing you need to clarify before beginning.
2. Use an everyday language: speak straightforwardly, and leave behind technicalities.
3. The power of words and images: create something eye-catching and attractive using both.
4. Make your identity clear: have a unified branding, with colors and a logo that makes you easily recognizable.
5. Create a design according to what you want to tell: take into account both generic information and details, they're very important.
Learn more about flyers and offline marketing
Knowing how to make an effective flyer that catches the eye and delivers results is essential for any event, meeting, or product announcement. A well-designed flyer can make a lasting impression, but how do you ensure yours stands out in the sea of ordinary advertising materials? Look no further! We've compiled a list of expert […]
In the world of marketing, flyers are a powerful tool for businesses and organizations to showcase their products, services, or events. However, to truly harness the potential of this marketing gadget, it's essential to understand what a flyer is and the different sizes and dimensions it comes in.  In this blog post, we'll walk you […]
From business cards to posters and flyers, print design plays an integral role in any small business seeking success. But what do you really need to know? Relax – we've got the low down! Read up on our top tips for brilliant printing projects that will have your brand standing out from the rest! What […]
I needed to make posters to find participants for a scientific study. With the help of Wepik, finding a design that suits my needs the best, has been very easy and intuitive!
Africa Gómez
Psychologist
The dynamism of the website has allowed me to work easily and quickly to make incredible designs for campaigns. I appreciate that it can be adapted to different formats!
Antonio Martin
CDO Marketing Digital
An excellent tool, I can send presentations of the products with a great design to my potential customers. Easy to use, very intuitive, and in only a few minutes, I have everything I need!
Alexandra
CEO
Wepik makes my job much easier to create content for social media, posters, and even invitations to promote my events. Since I discovered Wepik, I don't use any other editor!
Marta Rodriguez
Marketing Specialist
An essential platform in my everyday work and projects. It allows me to use elements that in other design platforms, would certainly be premium. I highly recommend it!
Marina Benítez
Founder of Pez Magazine