Home / Personal Trainer branding
Free Personal Trainer templates & Gym graphics to build your Brand Identity
Get warmed up, because you're about to work out your creativity! Wepik brings you inspiring ideas for your fitness branding with these energizing personal trainers templates and gym graphics. Get your business' visual identity in shape and lift it to new heights with us now!
Personal trainer, fitness & gym branding made easy
Creating original content to boost your fitness branding is a breeze with Wepik thanks to our whole collection of templates. Logos, brochures, business cards, posters, Instagram stories, Facebook posts and many more formats you can experiment with and download in seconds. Pick whichever design suits you best and take some inspiration to really differentiate your gym branding from the rest.
3 simple steps to achieve the best fitness branding
Choose a template from our collection
Scroll down to navigate our vast set of personal trainer templates and select the one that catches your eye. We provide you with multiple designs of different styles to choose from!
Customize it with Wepik's online editor
Have your favorite template at hand? Cool! Now open Wepik's online editor to customize and tweak your creation easily and fast. Train your imagination!
Download the final result in one click
Once your brand-on template is ready, you just have to click the download button and go for the best format — JPG, PNG or PDF. Now you're all set to step up your fitness branding!
Stay inspired with our gym & personal trainer templates
Browse our library of groundbreaking personal trainer and gym templates to discover untapped ideas for your business. Check it out for yourself!
How to brand yourself as a personal trainer?
Gyms and personal trainers are popping up like mushrooms nowadays. The problem is that they all target very similar overlapping audiences. How do customers tell them apart and choose one over the other? The answer is quite simple: fitness branding.
Coming up with a personal trainer branding strategy for the first time may look a tad daunting. We give you some tips to start the journey towards the ultimate optimization of your visual identity:
1. Incorporate your core values, vision and mission to your brand: stay clear about who you are and nurture your brand persona. This is the foundation of your fitness branding, and will determine how clients feel about you as a professional.
2. Make an impressive logo and think up a catchy motto: Logos are the first excerpt of your brand your audience sees, so they are decisive. Take your principles into account, your goal as a fitness instructor and navigate Wepik's personal trainer logo template collection to customize your on-brand content.
3. Communicate with your audience: Don't expect clients to rain from the sky or to make the first move. Be proactive, generate useful, trustworthy content on social media and let your personal trainer brand speak for itself.
Carving out your own brand producing quality content and creating coherent promotional material is possible with Wepik. Beyond its extensive array of templates, its intuitive editor allows you to fully customize any design and stand out from the herd. With us, you can power up your personal trainer brand and shoot for the stars!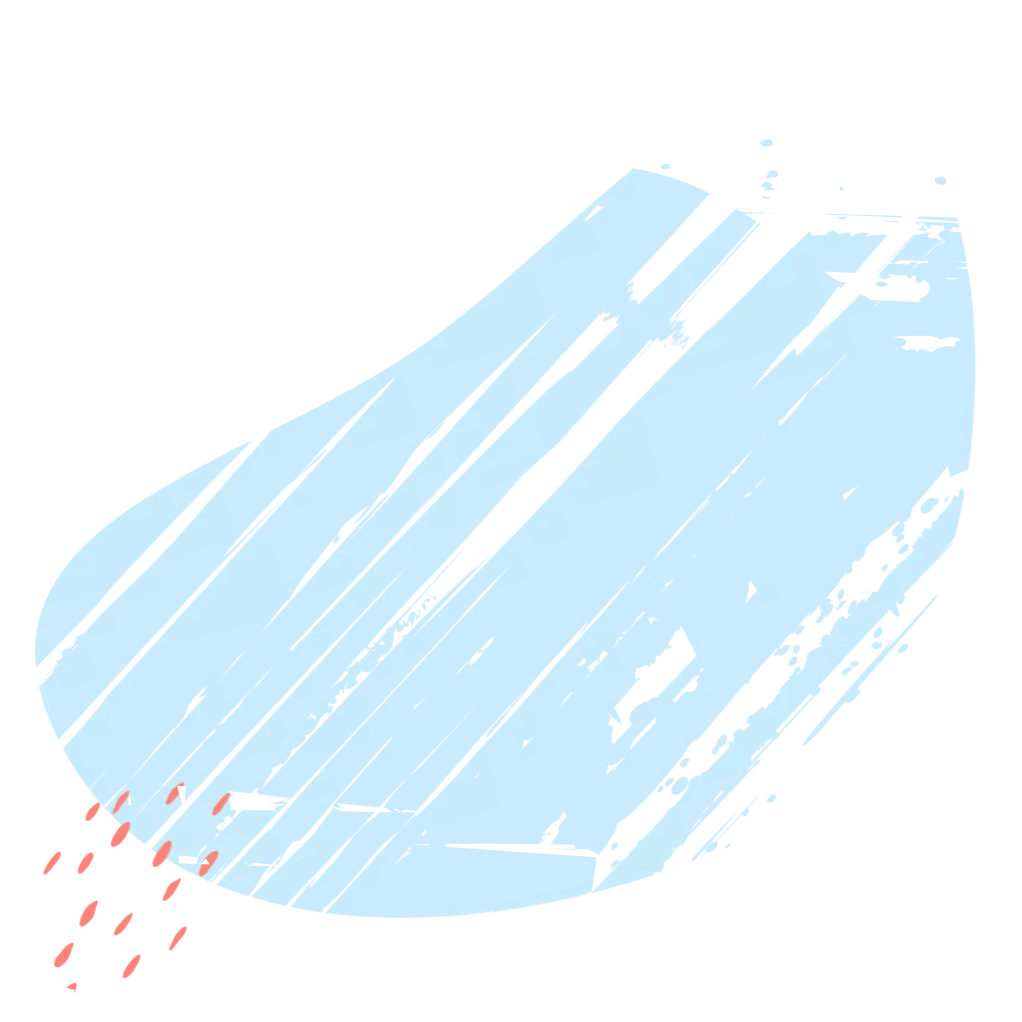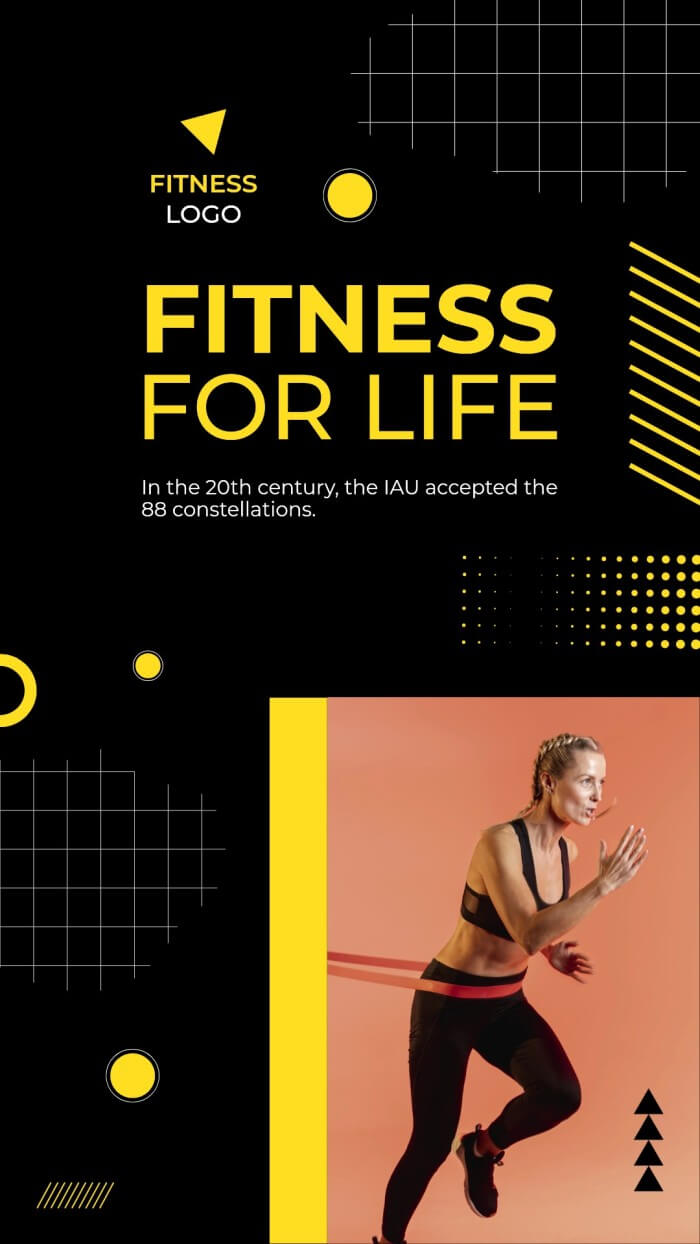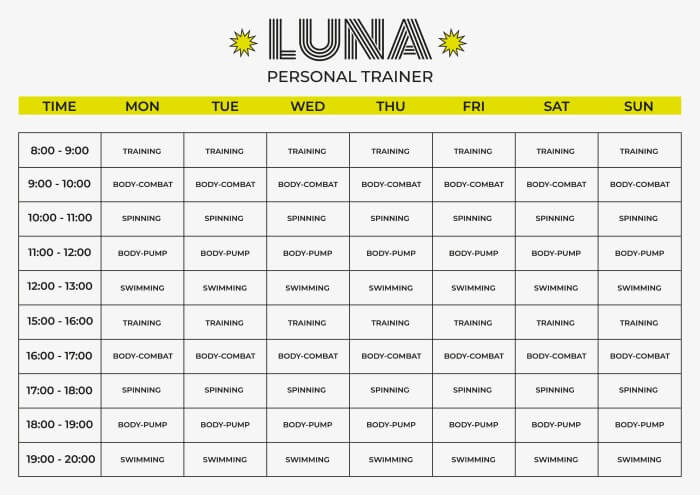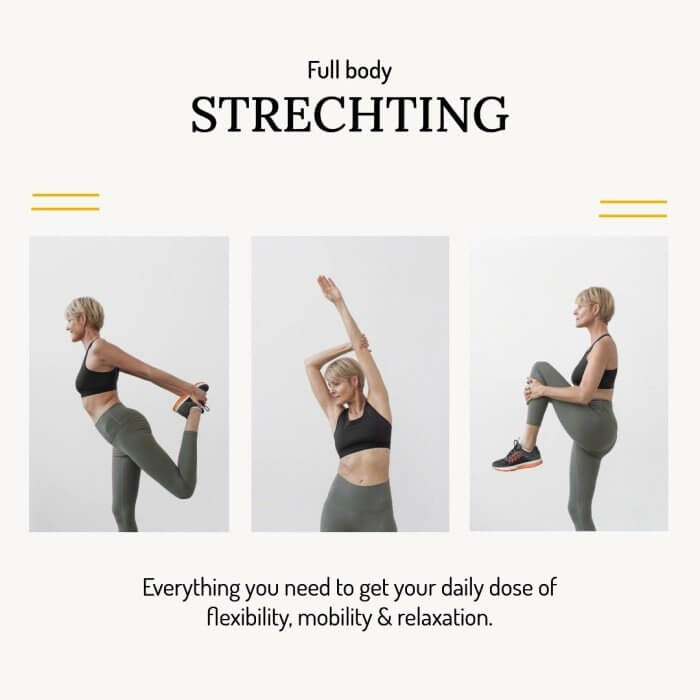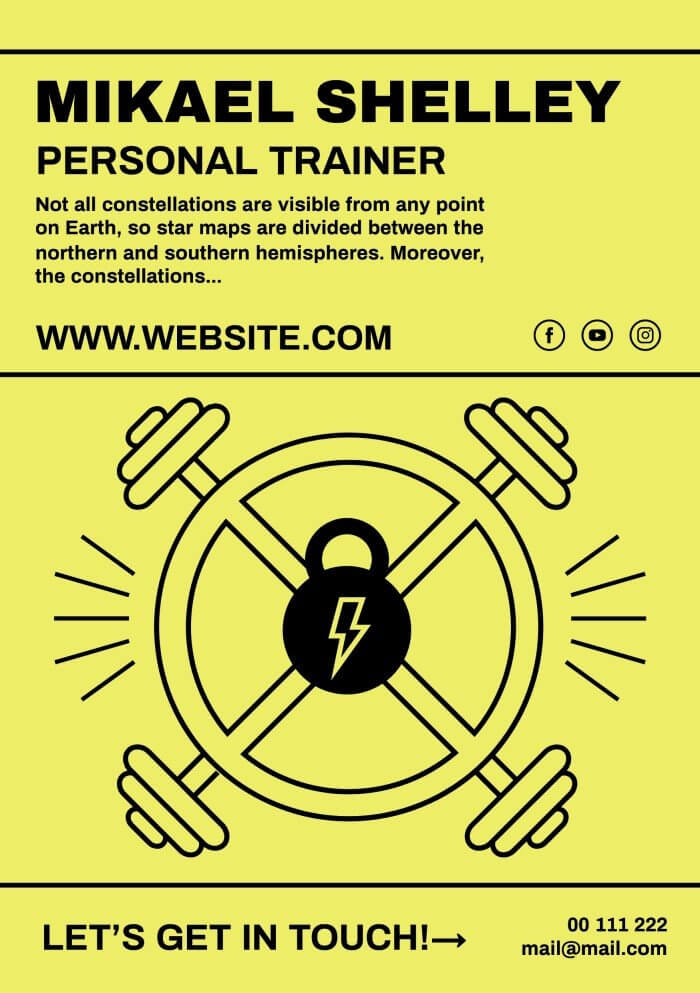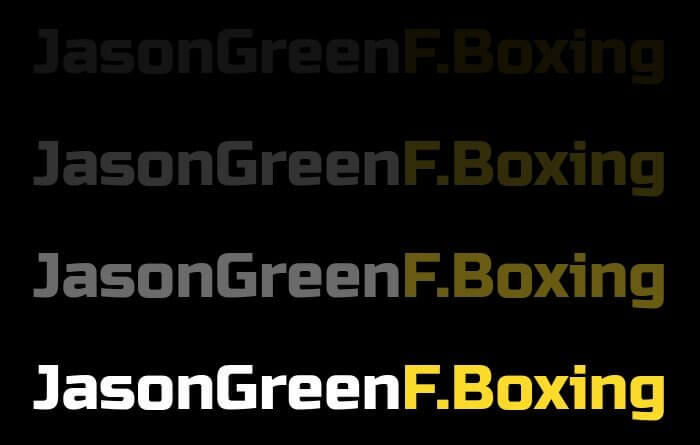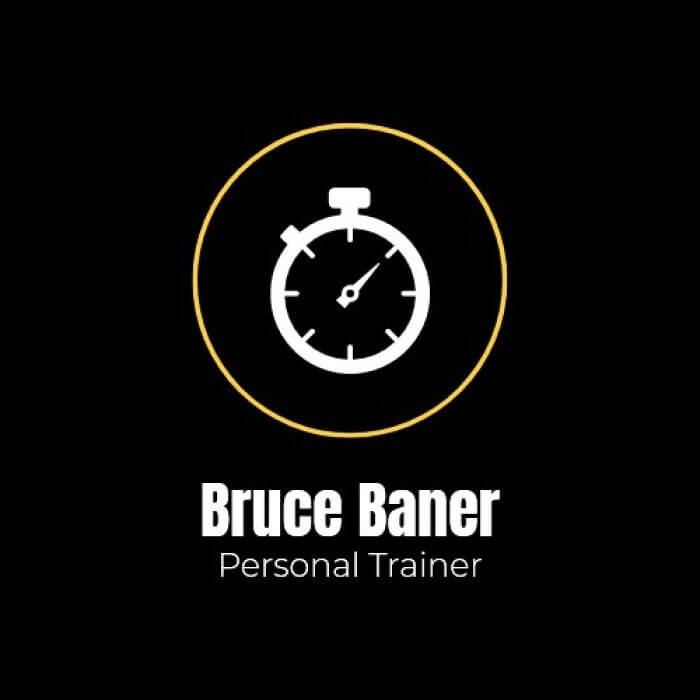 Frequently asked questions
How do I promote myself as a personal trainer?'
Personal trainers not only have to spend time advising customers and planning workout routines for them, but they also have to make major efforts to market themselves the right way. Here we give you a couple of ideas to start promoting your business and generating brand awareness:

- Communicate in a friendly, warm tone with your customers online and respond to every comment if possible.
- Gather your customers' email addresses and send them a monthly newsletter with helpful, relevant tips about health, exercise and fitness lifestyle.
- Offer discounts to first-timers and to loyal customers.
- Free classes are tempting for potential clients who want to hire your services but need a little security push.
- Design an eye-popping business card, share them often and drop them off in strategic places which may be frequently visited by your audience.
- Record videos of you and your fitness services. Remember that videos are the most engaging format for all social media.
- Foster positive word of mouth among your customers. A satisfied client is always the best marketing tool.
How to design a gym poster online?
Designing a gym poster online with Wepik's easy-to-use editor is a cakewalk. Open your favorite template in our design tool and apply changes here and there. First, decide how you want to organize all the elements dragging them around. We help you align all elements, so your design looks harmonic and symmetrical.

Click on text boxes to pick a legible font (preferably, non-serif) from the list, change its color and write a compelling claim to attract new customers eager to hire your services. You can also switch the color or delete any shape or motif you want.

Upload your logo and/or a high-resolution picture which showcases your best qualities and resize them to fit the artboard.

When you finish creating your personalized gym poster design, download it and plaster the entire neighborhood to get your potential audience's attention!
How to start branding your gym?
All beginnings are difficult, but overcoming the first obstacles you stumble with when branding your gym can become easier if you follow some basic steps and develop the right mindset. We give you some tips to get you started:

1. Pick a vivid color palette and a readable font that resonates with the personality of your business.

2. Reflect on your clients' fears, interests and character, and decide on how you are going to use language and how you want to sound.

3. You should look distinct and special, but don't overdo it. Avoid big talk and projecting an overconfident, pretentious image of yourself.

4. Bring together all your content and unify its style to build a solid, coherent visual identity. Apply the same style to every branding material to make it more memorable and professional.

If you've already solved all of the above points, you're on the right track! Decide which formats are the most convenient ones for your fitness-related company and navigate our template collection to find what you need. We recommend you to consider looking through or large number of gym brochures, business cards and logos to get your branding rolling.