Join us and watch how words come alive!
Don't worry - your words are safe and sound. You'll see the results of your prompt once you are logged in. It's totally free!
Free Online
AI Text Writer Tool
Say hello to the future of writing with our new AI text writer feature. Whether you need a blog post, article, or social media post - our Artificial Intelligence-powered tool is here to transform the way you write, forever.
No inspiration? Try these:
Introducing the
AI Text writer
No more struggling to find the right words. Craft compelling and engaging content in minutes, and to get started, simply use a prompt!
Generate
quality content fastly
Looking for a writing partner that's always on? Our AI Text writer tool is available 24/7, ready to help you write the perfect and personalized message, anytime, anywhere
Who is the

AI Text Writer for?

Revolutionize the way you express yourself with our new AI writer. It's the perfect tool to help you unleash your creativity and take your writing to the next level.
Step into the future of writing with our AI writer feature. Whether you're a blogger, marketer, or creative professional, our tool can help you write better, faster, and smarter.
Our AI writer tool takes the guesswork out of writing, helping you produce content that's not only informative but also engaging, perfect for your small business!
Welcome to the future of personal content creation. This feature is here to help you write impactful, meaningful, and unforgettable texts for your day-to-day life. The possibilities are endless!
How to

make AI-generated texts
1. Prepare your prompts
Before you start writing, it's important to think about what you want to communicate. Prepare a list of prompts or concepts, and this will help you stay focused and on track as you start writing.
2. Make your first draft
Once your mind is set, it's time to start writing your draft. Don't worry about getting everything perfect on the first try. The goal is to get your ideas and polish them later.
3. Adjust anything you need
Take some time to review your work. This is your opportunity to enhance your writing, clarify your message, and make any necessary adjustments to improve the overall quality of your content.
4. Ready to publish!
Hurray! You've generated your first AI text and it is ready to see the light. Whether you're publishing a blog post, an article, or a book, take pride in your work and share it with the world.
All the
AI Writer possibilities
Give your templates personalized and
exclusive texts
With Wepik's AI Writer, bring your content to the next level by including unique and unmatched texts, generated in the blink of an eye with a simple prompt. No matter what you need, the AI Writer's got you covered - try it now!
Explore
more features
Wepik has opened up a world of digital magic. Use their Text to Image generator and AI Presentation maker features to create illusions that are sure to wow even the most experienced tech masters! And to bring some magic to your images, rely on the AI-powered Background Remover. Unleash all this sorcery from anywhere with the new Wepik Mobile App – available now on iOS and Android devices!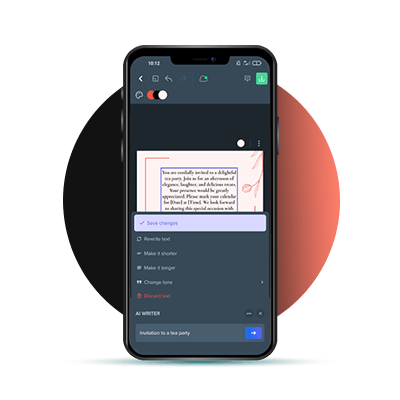 Discover
our App
Wepik offers you the possibility to create professional-looking materials just by removing the background with a simple click and combining it with our templates. Have a look!
Frequently asked questions
Oh yes! Wepik's AI Writer is free to use. You simply need to set up a free account, and start writing.
Yes, you can use the AI Writer for commercial purposes as long as you comply with Wepik's terms and conditions.
Of course! The AI Writer can generate text for various lengths and purposes, including articles, product descriptions, social media posts, and even CTAs! 
To write a good prompt for the AI Writer, it is recommended to be specific, clear, and concise. Use keywords and phrases that accurately describe the content you want to create, and if you're feeling a bit lost, take a look at our prompt tutorial
The download option is located at the top right of the editor, where you can select all your photos or just a few, as well as choose the format you prefer: JPEG, PNG or PDF.
Learn more about the AI Writer
I needed to make posters to find participants for a scientific study. With the help of Wepik, finding a design that suits my needs the best, has been very easy and intuitive!
Africa Gómez
Psychologist
The dynamism of the website has allowed me to work easily and quickly to make incredible designs for campaigns. I appreciate that it can be adapted to different formats!
Antonio Martin
CDO Marketing Digital
An excellent tool, I can send presentations of the products with a great design to my potential customers. Easy to use, very intuitive, and in only a few minutes, I have everything I need!
Alexandra
CEO
Wepik makes my job much easier to create content for social media, posters, and even invitations to promote my events. Since I discovered Wepik, I don't use any other editor!
Marta Rodriguez
Marketing Specialist
An essential platform in my everyday work and projects. It allows me to use elements that in other design platforms, would certainly be premium. I highly recommend it!
Marina Benítez
Founder of Pez Magazine