Free
Electrician Price List

templates to download

Discover our range of Electrician Price List templates, designed to streamline your business operations. Easily customize pricing for various electrical services. No more guesswork, just clear, consistent pricing that your customers will appreciate. Ideal for independent electricians and larger firms. Start enhancing your professionalism today!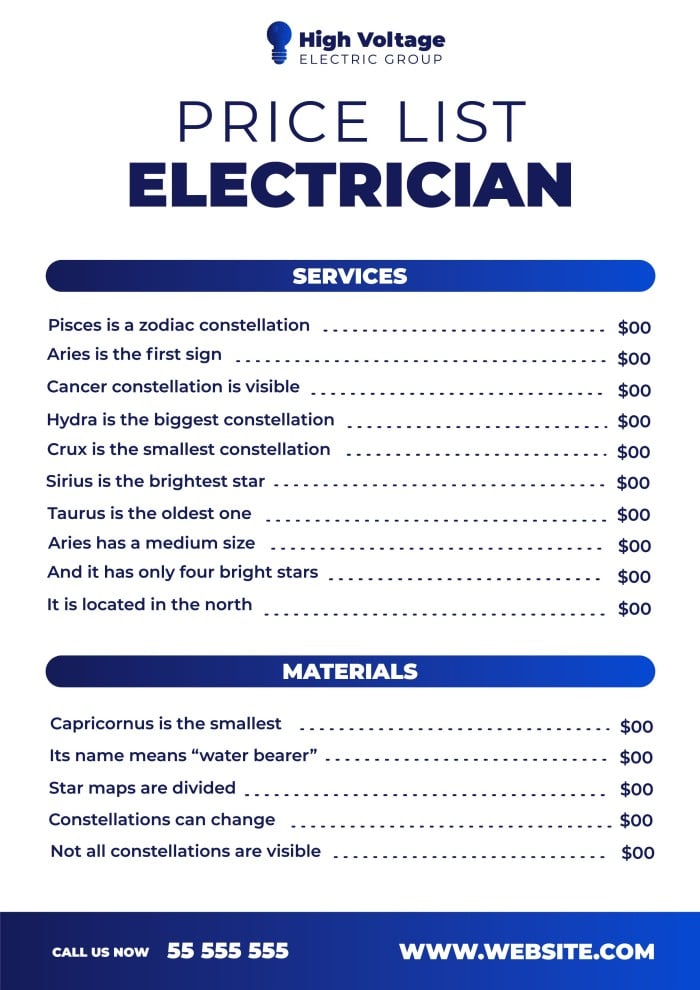 An electrician price list is an essential tool that provides a detailed overview of the costs associated with different electrical services. These can range from simple tasks such as installing light fixtures or outlets, to more complex projects like rewiring a house or installing an electrical panel. Having a clear, well-structured price list not only ensures transparency for customers but also enhances the professionalism of the electrician's business.
There are different types of electrician price lists tailored to the variety of services offered. For instance, a residential price list might include costs for common household tasks, while a commercial price list would detail the costs associated with larger scale, business-related services. Some electricians may even have separate price lists for emergency services, which usually incur higher costs due to their urgent nature.
The format of an electrician price list can vary significantly, but the primary goal is to present all necessary information in a clear and concise manner. A price list might be formatted as a simple table with one column listing the service and another indicating the price. Alternatively, it could include additional columns detailing the estimated time required for each task, the materials included in the price, or any specific conditions under which the price applies.
These price lists serve multiple purposes. For customers, they offer invaluable insight into expected costs, allowing them to budget effectively and avoid unexpected expenses. For electricians, having a standardized price list simplifies the quoting process, ensuring consistency in pricing and saving valuable time.
For small businesses, understanding an electrician price list is crucial for effective budgeting and decision-making. Knowing the costs upfront allows businesses to make informed decisions about which services they can afford. Furthermore, being knowledgeable about standard costs can put a business owner in a stronger position when negotiating services and prices. Thankfully, platforms like Wepik make creating these price lists easier by offering customizable templates, making it simple for electricians to design professional and easy-to-understand price lists.