Free editable Venn Diagram templates
Mixing the magic of diagrams and graphics, these Venn Diagram templates are the ultimate weapon for visual storytellers. With Wepik, editing and downloading them is as easy as connecting the dots! Let's design eye-catching diagrams that make even the most complex concepts look like a piece of cake!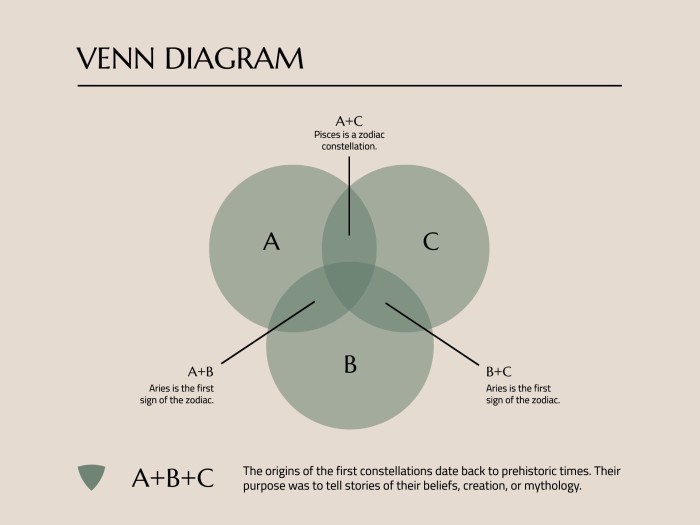 Venn Diagrams are a powerful visual tool that showcases overlapping relationships between sets of data, making complex concepts easy to understand. With their circular, eye-catching design, they are both fun and effective, making them a popular choice for visualizing information in various fields.
The versatility of Venn Diagrams extends to many uses. They are perfect for comparing and contrasting ideas, identifying commonalities, and analyzing data. In education, they help students grasp complex subjects, while in business, they aid in strategic decision-making and market analysis.
For businesses, Venn Diagrams can have a profound positive impact. They simplify data, making it easier to identify market trends, customer segments, and potential opportunities. Venn Diagrams also aid in showcasing product differentiators, competitive advantages, and target audience overlaps, helping businesses fine-tune their marketing strategies.
By using Venn Diagrams, businesses can enhance communication and collaboration within teams. They provide a clear visual representation of complex relationships, making it easier for employees to understand and discuss ideas. This promotes efficient problem-solving and fosters creativity, resulting in better solutions and outcomes.
At Wepik, we offer a diverse selection of customizable Venn Diagram templates to cater to your business needs. Our user-friendly platform allows you to effortlessly edit and download these visual resources for free. Empower your business with the magic of Venn Diagrams and unlock new possibilities with Wepik!