Free Travel Agency Instagram Post templates to download
Get ready to share your offers, deals and paradisiacal destinies with this selection of Travel Agency Instagram Post templates. Au revoir!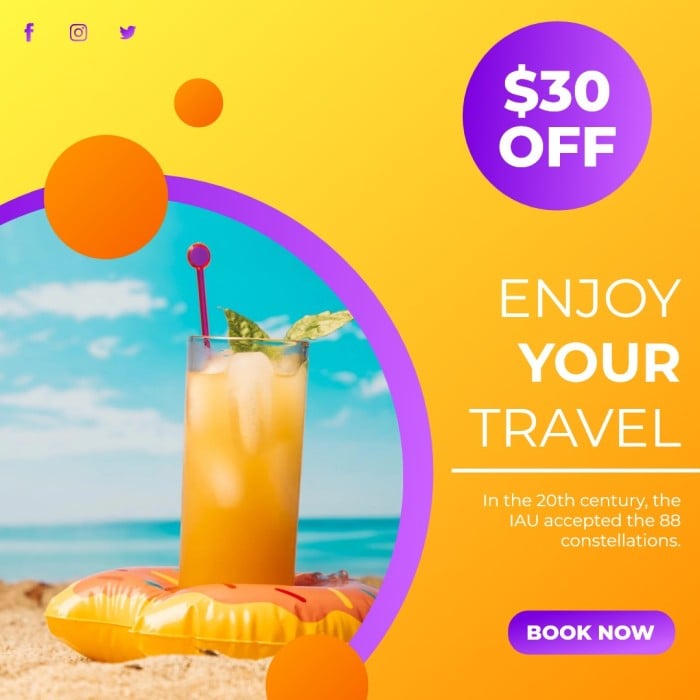 Instagram has become a vital marketing tool for travel agencies, with its powerful visual platform offering a unique opportunity to showcase destinations and travel experiences. From vibrant images of exotic locations to videos of thrilling adventures, travel agency Instagram posts can captivate audiences, inspire wanderlust, and ultimately drive bookings.
There are several types of Instagram posts that travel agencies can utilize. Imagery posts featuring breathtaking landscapes, cityscapes, or cultural experiences can entice followers and make them dream of their next vacation. Informative posts providing travel tips, destination guides, or the latest travel news can position the agency as an expert in the field. Testimonial posts highlighting positive experiences from satisfied customers can build trust and credibility. Promotional posts announcing special offers or discounts can incentivize bookings. Behind-the-scenes posts giving a glimpse into the agency's operations or team can humanize the business and foster a more personal connection with followers.
The shape and format of these posts can be quite varied as well. Standard square posts are common but others may opt for vertical or horizontal formats depending on the content. Carousel posts can be used to showcase multiple images or videos in a single post, perfect for providing a virtual tour of a destination or a rundown of a travel package. Instagram Stories, which are full-screen, disappear after 24 hours, and can be used for timely updates or limited-time promotions. Instagram Reels, the platform's short-form video feature, can be used for engaging, dynamic content that can reach a wider audience due to its prominence in Instagram's Explore page.
For small travel businesses, Instagram can level the playing field. It provides a platform to reach a global audience, compete with larger firms, and showcase their unique offerings and personalized service. A well-curated Instagram feed can help small travel agencies stand out, attract potential clients, and build a loyal following. It also offers opportunities to engage directly with followers, answer queries, and receive feedback, helping to build relationships and foster customer loyalty.
Creating compelling travel agency Instagram posts is made easier with tools like Wepik. It offers a range of customizable templates designed specifically for the travel industry. With a few clicks, businesses can add their own images, edit text, and adjust the design to match their brand aesthetic. This makes it easy for any travel agency, regardless of size or resources, to create professional-looking Instagram content that inspires and engages.