Free Beauty Salon Instagram Post templates to download
No one can deny that social media is the new window to the world, and particularly Instagram is the perfect place for the most elegant and aesthetic photos - just what you need for your Beauty Salon profession account! On Wepik, find the suitable template for your business. All of them are editable! Get the result and start gaining new followers right away!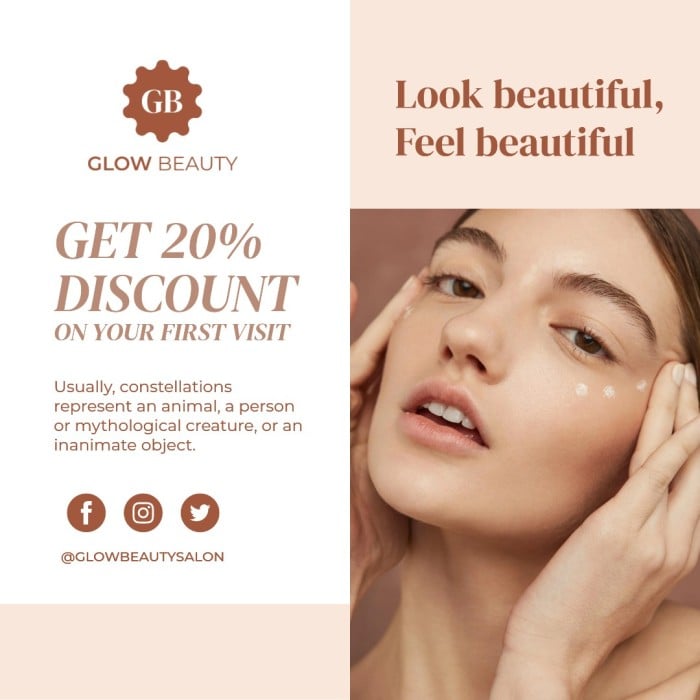 Instagram has emerged as a powerful platform for beauty salons to showcase their work, connect with clients, and attract new customers. Beauty Salon Instagram posts are visual endorsements of the salon's services, creative skills, and unique style. High-resolution photos or videos of hair transformations, nail art, makeup applications, or skincare treatments can effectively convey your salon's expertise and vision. Besides showcasing services, these posts can also provide a peek into the salon atmosphere, highlight special promotions, or introduce the team behind the magic.
There are several types of Beauty Salon Instagram posts. The most prevalent is the 'before and after' post which showcases the transformational power of your services. These posts can be incredibly compelling as they visually demonstrate the skills of your stylists or therapists. Then there are product posts that highlight the brands or products used in your salon, affirming your commitment to quality. Inspirational posts featuring quotes or beauty tips can engage followers while positioning your salon as a voice in the industry. Behind-the-scenes posts humanize your brand and allow followers to connect with your salon on a more personal level. Lastly, user-generated content, such as client selfies or reviews, can provide social proof and encourage more customer interaction.
In terms of shapes, Instagram offers different formats to suit your content. Square posts (1080px by 1080px) are standard and perfect for close-up shots of hair, nails, or makeup. Rectangular posts, either landscape (1080px by 566px) or portrait (1080px by 1350px), provide more space for wider shots or multiple items. Carousel posts allow users to swipe through a series of images or videos, ideal for step-by-step tutorials or showcasing multiple angles of a hairstyle or makeup look.
Beauty Salon Instagram posts are crucial for small businesses. They can significantly boost brand visibility, attract potential clients, and keep your salon top-of-mind for existing customers. Regularly posting engaging content can increase likes, comments, and shares, helping your salon gain more visibility on the platform. Moreover, utilizing Instagram's features such as location tags, hashtags, and booking buttons can further enhance your posts' reach and effectiveness.
Creating captivating Beauty Salon Instagram posts is made simple with platforms like Wepik. Wepik offers a wide range of customizable templates for Instagram posts, suitable for all types mentioned above. You can easily find a design that aligns with your salon's aesthetic, add your images and text, make necessary adjustments, and have your post ready in no time. Whether you're showcasing a stunning hair transformation or announcing a special offer, Wepik helps you create professional and enticing Instagram posts that can help your beauty salon shine.